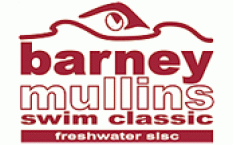 Barney Mullins Swim Classic – 2021
The date for next years swim is Sunday 28th February 2021.
Full details to follow as we get closer.
In the meantime we have an xciting competition happening –
DESIGN A NEW LOGO FOR THIS ICONIC BARNEY MULLINS SWIM CLASSIC!!
It is time to update the logo and should you enter your logo could be at the forefront of this event.  See details below or click on this link to download the pdf version.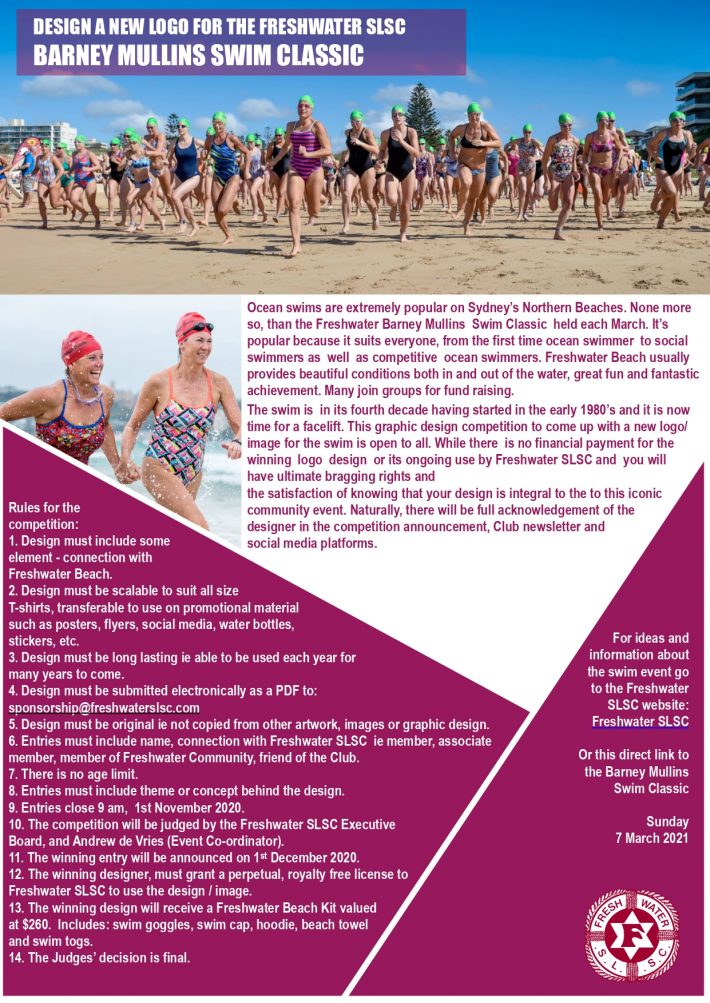 Aloha Ocean Swimmers,
Thank you to everyone who attended the 2020 Barney Mullins Swim classic.  
Congratulations to everyone who swam.  We hope you enjoyed it.
Special mention to the two fastest swimmers on the day:
Ned Wieland was the fastest male in 18m 18s, in a tight finish only 6 seconds ahead of our second-place getter.

Freshie SLSC's own Tamsyn Curley was the fastest female in 20m 46s. A time which saw her come in 15th Great swim Tamsyn!
The Barney Mullins Shield winner for the fastest Freshwater club member, again went to Carl Sorensen (that's 2 in a row!). His time of 18m 47s, also making him 3rd overall.
Full 2020 results can be found at the following link: https://thetimingguysresults.com/BarneyMullinsOceanSwim/2020
Past results can be found here: https://thetimingguysresults.com/history/BarneyMullinsOceanSwim/2020
These links are also on the Freshwater SLSC Barney Mullins Swim Classic event page: https://www.freshwaterslsc.com/the-barney-mullins-swim-classic-2020-2/
Kind Regards
Barney Mullins Swim Classic
Organising Committee
---
Freshwater is one of Sydney's most beautiful northern beaches and is generally protected from some of the larger swells by its north and south headland. White sands and crystal clear water help to ensure an enjoyable swim to be had by all. Come and enjoy the beach at Freshie in addition to the post race refreshments and presentations.
Distance 1.5 km
Organiser Freshwater SLSC
Enquiries exo@freshwaterslsc.com
Click here to view Event Flyer
Click here for 2020 Swim results 
Who was Barney Mullins
The Barney Mullins Swim Classic is named after Life Member and Freshwater swim legend George 'Barney' Mullins. The race up until 2007 was restricted to Freshwater SLSC members. Barney passed away in October 1995 and his son George travels from Queensland each year to attend race day.
Eligibility
Persons aged 13 years and above on the day of The Swim who have adequately trained for the event.
Categories
13-17yrs, 18-29yrs, 30+, 40+, 50+, 60+ – male and female plus a back of the pack 'Mates Wave'.
Enter Online, registrations are open on their site right now: please go to Oceanswims.com
Swim Registration
8.30am-9.30am at the Freshwater Surf Club, Kooloora Ave, Freshwater.
All swimmers MUST register and receive their colour coded swim cap and timing anklet by 9.30am.
LIMITED late entries can be made between 8.30am-9.30am on race day at the clubhouse @ $40 per person (cash, EFTPOS and credit card available).
Under 18 swimmers – Parents/guardians of swimmers aged under 18 must complete the online entry form, not the swimmers themselves. They must include their consent to the entry with full name and  phone contact. Just a phone number, a first name, or a number and first name will not do. Entries of U18 swimmers are not complete without this complete parental/guardian consent. Entries of U18 swimmers must use the parent's email, address, not that of the U18 entrant.
Please note that we will not be giving away water bottles this year in the interest of environmental sensitivity, so please bring your own water bottles. We will provide drinking stations at the end of the race and you can fill your water bottles at distribution points on the beach.
Prizes – Age group category winners will each receive a prize

All entrants will receive a complimentary drink voucher courtesy of the Harbord Beach Hotel and a Barney Mullins Swim Classic cap courtesy of Freshwater Community Bank (Bendigo Branch).
Risk Warning pursuant to Civil Liability Act 2002 (section 5M)
Ocean swims are demanding and potentially dangerous events. Risks include drowning, natural obstacles, man-made or -controlled obstacles, and marine attack. The Swim takes place in the open ocean. Swimmers enter at their own risk. You should have a medical check prior to entry, and prepare for the event by training. Water safety craft will patrol the course for the duration of The Swim. If a swimmer feels unable to proceed further in the swim, the attention of the water safety personnel should be sought.
The Swim organisers cannot guarantee your safety. The Swim organisers reserve the right to bring to shore by the water patrol any entrants which they deem to be incapable of competing further in the event. While in the competition area – including the beach and water environments – entrants must follow all directions of Warringah Council Lifeguards and The Swim organiser's officials and water safety personnel.
Race Rules
All swimmers must swim the prescribed course and ensure that their name is marked off the official entrants register at the conclusion of the BARNEY MULLINS SWIM CLASSIC [The Swim] even if they do not complete the course.
Swimmers must swim in the category for which they are eligible.
All swimmers must wear their prescribed cap, race number.
A swimmer may not use extraneous aids e.g. flippers, snorkels or floatation clothing devices (including wetsuits) if they wish to be eligible for a prize.
If the water temperature is 16C or below on the day of The Swim the Race Referee will permit the wearing of wetsuits. This will not preclude swimmers from prize eligibility.
All swimmers must wear only conventional swimming costumes made from lycra and/or nylon and/or polyester. Costumes must contain no neoprene or any other 'high-tech' material or substance or any material with any flotation support. Male swimmers must wear only briefs with no arms, legs or any part of the costume covering their body above the waist. "Jammer" type costumes are acceptable. Female swimmers must wear either one or two piece costumes with no arms or legs.
"Rashies" worn for protection from the sun and/or stingers are permitted provided they are not made from neoprene or any other "high-tech" material or substance or any material with any flotation support.
All swimmers are to behave in a fair and sportsmanlike manner without interference or aggression towards other competitors and any breach of this rule may result in disqualification from The Swim.
If in the opinion of an event medical officer or a water safety official a competitor is physically or otherwise incapable of starting or completing The Swimmer has been in the water for an inordinate time such competitor may be disqualified from starting or be removed from the water at any time.
If in the opinion of the Race Referee the weather or swimming conditions are dangerous or unsuitable The Swim may be cancelled without notice. Entry fees are NON refundable.
Prize winners must be present to receive their prize.
The decision of the Race Referee is final. Any protests must be made in writing to the Race Referee within 30 minutes of the completion of The Swim.