Surf Sports: Board/Ski/Swim

Board/Ski/Swim at Freshwater SLSC
A full carnival program of water events including individual and multi-discipline races as well as team and relay events. Competition involves 3 major disciplines – swimming, board paddling and ski paddling. Events are held for specific age groups: U15's, U17's, U19's Opens and Masters (30 years plus).
The Events
Swim Events

Swim races are held over a distance of approximately 400m (out around a string of cans and back to shore). There are up to 32 competitors in each swim race and first back to the beach is the winner. There is also a swim team event. A 4-person team (3 person in Masters events) completes a surf race with their finishing place being added to the team's total. The winning club finishes with the lowest cumulative points. The traditional belt race is also held at Championship carnivals for Opens, U19 & U17 competitors which is a one way sprint to the swimming cans. For U15 competitors a race to the cans pulling a rescue tube is available instead of the belt.There is also a 4 person rescue tube rescue race for U19s and Opens which involves a person racing with a tube to rescue a patient. The patient is then raced back to the shore by the tube swimmer who hands over to two other team members who race to physically carry the patient across the finish line.
Board Events

Competitors begin board in hand at the water's edge and race around a set of 3 cans 250m from the beach before returning to shore. First paddler back to shore wins the race. This discipline also features a board relay: 3 paddlers who complete an entire board race with a 50m run leg before tagging the next competitor.
Ski Paddling Events

Competitors begin next to their surf ski in knee-deep water and race around a set of 3 cans 300m from the beach before returning to shore and finishing between two flags placed at knee depth. First paddler back between the flags is declared the winner. This discipline also features a ski relay: 3 paddlers who complete an entire ski race race with a 50m run leg before tagging the next competitor. Another event is the double ski. Two paddlers sit on the same double seated craft and complete a slightly longer ski course (350m) before finishing between the finishing flags in the water. Ski competition is not available for U15 competitors.
Multi-discipline Events
First introduced in 1966, possibly the most iconic event of the modern era is the ironman race. Combining board, ski, swimming and running for an individual competitor, the event is also considered the toughest of the carnival program. Depending on the conditions, the race can take between 10 and 20 minutes to complete. The order is different at each carnival and is decided by a random draw.
There is also a relay equivalent of the ironman race, known as the Taplin Relay. Conducted in the same manner as an ironman, a 6-person team (3-person for ladies and U19, U17 & Masters) completes 2 swim legs, 2 board legs and 2 ski legs. U15 competitors race in a Cameron Relay, which is similar to the Taplin but excludes the ski leg and uses 2 extra competitors as runners.
The board rescue race involves a swimmer (patient), swimming 100m out to sea to a buoy, followed by a board paddler (rescuer) paddling out to pick up and return with the swimmer back to the start line.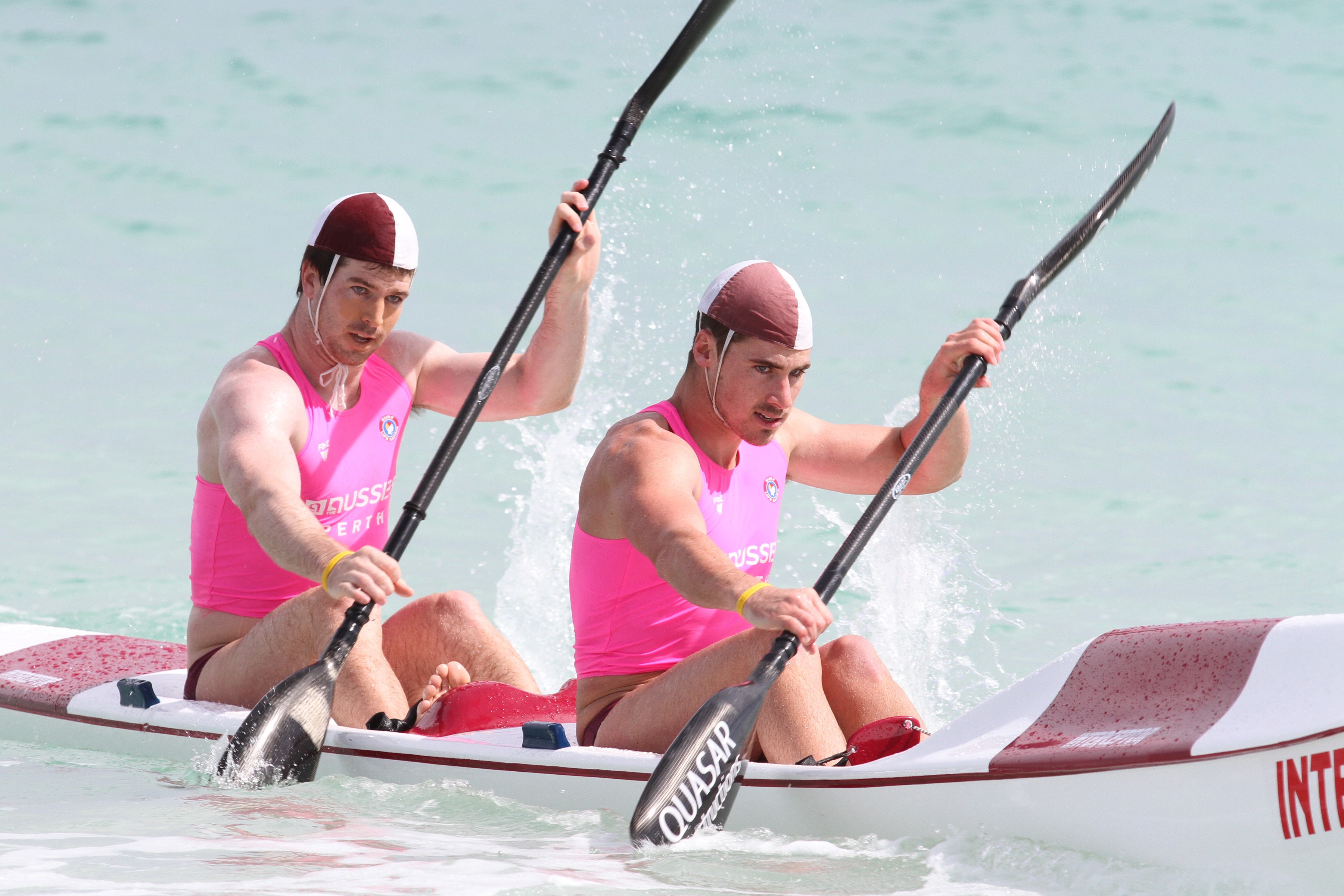 History of the Events
Board and ski competition was first introduced at Australian Championships in the 1940s. Originally held using long, hollow wooden craft, boards and skis have gradually evolved over the years to their current day forms.
The surf race has been an integral part of lifesaving since the movement began. It is one of only two events that has been a continuous feature of championship carnivals since they first began in the early 20th century.
The multi-discipline events have evolved in more recent times, with the iron man event first making an appearance at carnivals in the early 1960s. Other events such as the board rescue are more recent inclusions.
Historical
In the 1950's and 1960's Don "Bullet" Henderson was the club's outstanding board paddler, winning the Australian Open Long Board event in 1959 and numerous State, Metropolitan and Branch championship medals over the years. In more recent times, Matt Lemon who won an Australian Silver medal in 2004 and Tim Kirkby have been outstanding board paddlers for the club.
The 1970s and 1980's saw club members win a number of Australian Ski championships. Murray Braund dominated the ski events in the early 1970's, winning successive Australian titles in 1973 and 1974 and also teaming with Greg Jarmaine to win the Australian double ski championship the same years. The 1980s's and 1990's saw a crop of junior ski paddlers tasting success with Peter Obern and Matt Fleming (1981) and Jono Chalmers and Marcial Nunura (1998 & 1999) winning the U18 Australian double ski championship. Deandra Godoy also won the U17 Australian Ski Championship in 2011.
The club has had considerable success over the years in surf race related competition. The first Australian championship was won in 1927 when Noel Walpole won the U18 belt race. The 1950's was another period when a number of State & Australian championships were won.
The 1980's was perhaps our most successful period when a succession of Australian championships was won by a group of competitors who were outstanding in this area of competition.  Cameron Dunn, Peter Obern, John Harker, Barry Newman, Tim Ford & Brad Hill combined to win a number of Cadet, Junior and Open Australian championships during this period. Leading the way however was Darren Bogg who won 9 Australian titles in surf race and surf team events and is considered one of our best, if not the best, swimmer of all time.
In more recent years, the Miller sisters – Alisha, Brooke & Georgia together with Rachel Crerar – have also won a number of State and Australian medals in swimming events. Kurt Hanson won the club's first ever Australian Open Belt championship in 2013 and Ben Blakeney won the bronze medal in the U17 event at the 2015 Australian championships and the NSW State Championship in 2016.
Present Day
For season 2019/20 the club will again have long time club member Aaron Thomson to the role of Head Coach. Aaron will be responsible for the season program and all coaching sessions for all competitors in this section from u15 through to masters. Aaron will be assisted by a number of senior members who have long time experience in the board ski swim area. Australian Masters Champion John de Mestre will also be taking weekly surf skills sessions.
Fitness, training and competition
Fitness
To compete in board, ski & swim races, a reasonable level of fitness is required. Races are generally short and intense, but when completing between 3 to10 races over a day a good level of endurance is necessary.
Training
Freshwater SLSC conducts training for all ages and all skill levels throughout most of the year. Whether a beginner or an expert training for the Australian Championships, there are sessions to cater for all skill types.
Competition
The club competes at a number of local carnivals throughout the season in both junior and senior competition. The championship carnivals are held at the end of the season from February onwards and include the Branch, State and Australian Championships. All of these carnivals are open to all participants. The junior carnivals are held on a Sunday and events usually commence from 7.30am.
The senior carnivals (U15 – Opens) are held on a Saturday with water events generally starting early morning and lasting most of the day, but this may vary from carnival to carnival. The same applies to Masters events (30+). Masters carnivals are generally held separately to senior carnivals and timing can vary depending on the arrangements made by the host club.
All events that are run at regular carnivals are individual and relays for swim, board and ski, double ski, board rescue, ironman and taplin/cameron relay. The other races are usually only conducted at championship carnivals.
If I compete in Lifesaving competition can I do other events?
Because of the great variety of events on offer in the board, ski and swim section it is not normally necessary to consider other events. While there may be an opportunity to compete in Lifesaving, R&R, March Past and Beach events at local carnivals, the capacity to do so at Championship events is likely to be limited.
Contacts
If you are interested in competing in any events or would like further information about competition and training, you should contact –
Director of Surf Sports, Scott Morrison at sport@freshwaterslsc.com
or Michael Kirkby, Captain of the Board, Ski, Swim section at Michael@apg.com.au
Take part!
Our members enjoy access to a wide range of surf sports both for fun and for serious competition. Join today!