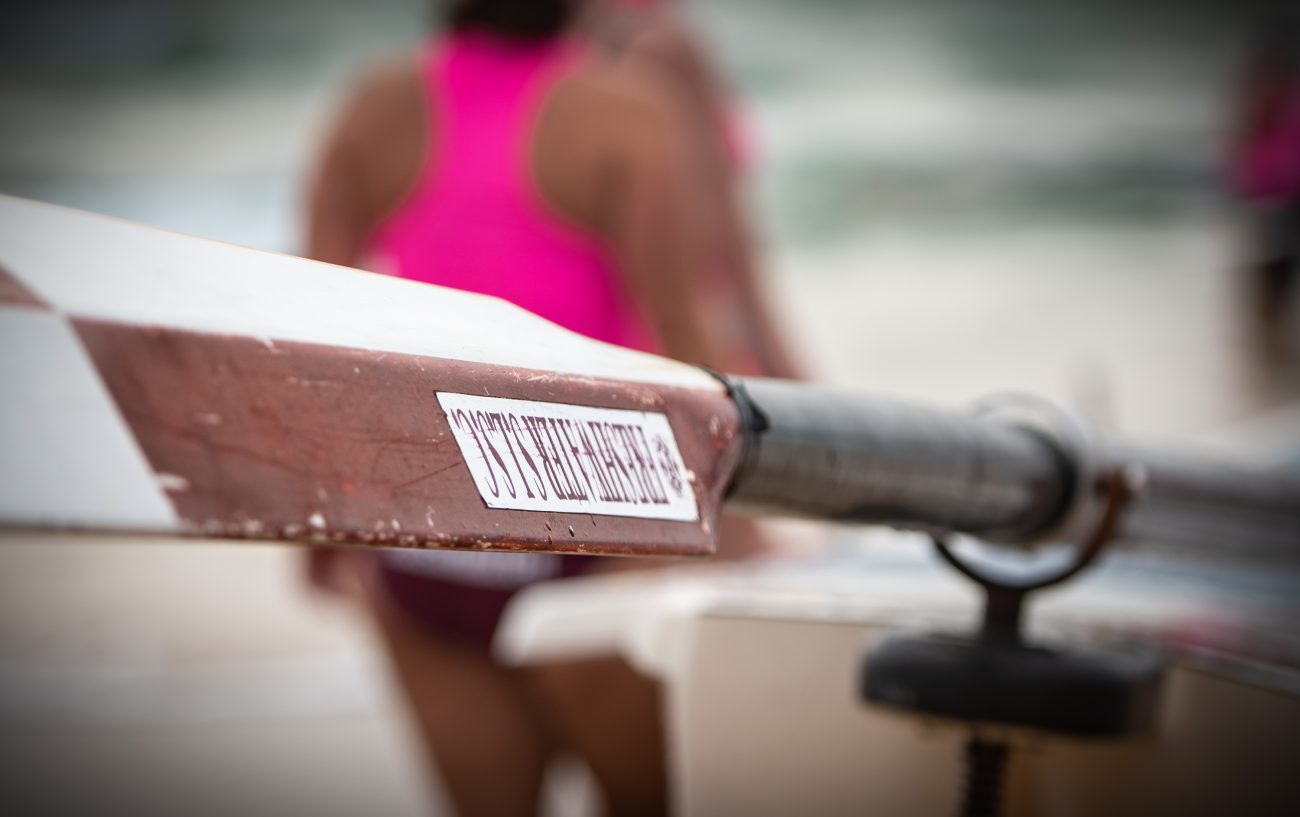 Surf Boat Rowing at Freshwater SLSC
Boat events involve a team of 4 rowers and a sweep racing approximately 400m out to sea, turning around a buoy and then returning to shore.
The different divisions of the event are –
Open men's
Open women's
Reserves (Men & Women)
U23's (Men & Women)
U19's (Men & Women)
Masters (Men & Women 30yrs or older)
History of Surf Boats
Surf Boats have been part of surf lifesaving since the beginning of the movement.  Originally used as rescue craft, surf boats have been used to perform many famous rescues, often in heavy seas, during the early to mid-1900s.  They feature prominently in many old black and white films depicting the origins and development of the surf lifesaving movement.
Originally heavy and made of wood, the design of surf boats has changed over the years. Today they are relatively lightweight craft used for competition purposes only. Though no longer used for lifesaving purposes, they have remained a popular part of the surf lifesaving movement both for those who compete in them and for those who watch the racing.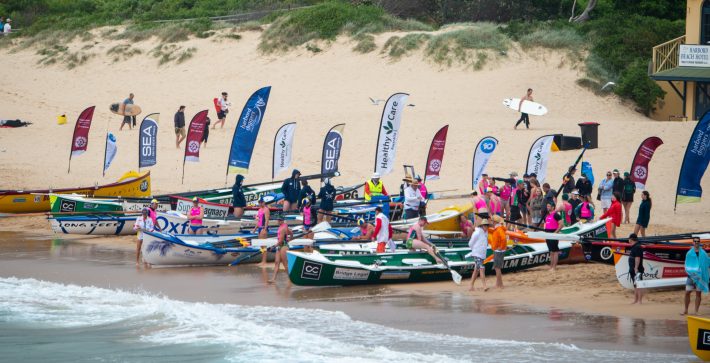 Surf Boats at Freshwater
Historical
The club has a long history in surf boats. It acquired its first boat in 1914 and its history in competition is up there with the best around Australia. Since the first days, club members have been instrumental in the formation and development of the sport. Pioneers such as Don Matheson, "Dick" Matheson, George Henderson, Brian "Woggles" Mason, Brian O'Callaghan, Ron Payne, Kevin "Bluey" Myers and Kim Marsh raced in the maroon and white and went on to become legends of the sport. From the beginning of inter-club competition, Freshwater has fielded boat crews in local and championship carnivals, winning the first Australian title held at Manly beach in 1920.
Since then the club has won numerous Branch, State & Australian Championships as well as minor places and has had teams qualify for many State & Australian finals. The crew which won the Australian Championship in 1973 and 1974 is regarded by many within the surf boat fraternity as the best crew ever to race. In total the club has won 18 Australian titles since the first success in 1920.
A number of members who have rowed for the club have gone on to be recognised by their peers as amongst the best in the history of the sport. The list includes Kevin "Bluey" Myers, Ron Payne, Chris Branson & Kim Marsh.
Rescues and tragedies:
Like most clubs with a history of surf boat involvement, the club also boasts a number of brave rescues by club members in big seas. The following extract from the club's 100 centenary book gives one example –
Daring and brilliant: rescues and tragedies:  "In March 1948 the senior boat crew, having just won the Australian championship on Manly beach, was involved in 'one of the most thrilling rescues in Australian surf history'.  By the time this final, which only three of the six boats competing completed (because of the mountainous seas), was 'run off', it was dark. As night closed in it was discovered that four Narrabeen competitors and one competitor from the Entrance were missing. Freshie members Don Matheson and Alan 'Sugar' Mitchell donned belts and swam out to try and locate the missing men. But it was George Henderson, Roy Bull, Neville Fulthorpe, Doug McMurray and Ross Griffin, the champion Freshie crew, who managed to find them.
Although exhausted from a 'most gruelling race' they did not hesitate. As the huge carnival crowd looked on they plunged back into the dangerous surf in their frail craft and after an extensive search eventually located all the missing men and landed them safely at Fairy bower just south of Manly."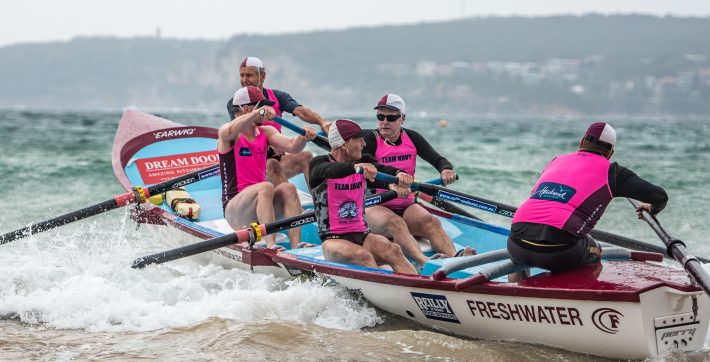 The club has enjoyed a degree of success over the past several seasons with highlights including – 5th Junior Surf Boat Australian Championships 2008/09, 2nd Reserve Grade ASRL Australian Open 2012/13 and numerous carnival wins. In 2015 the club's A crew made the semi finals of the Ocean Thunder series and the 240yrs Masters crew (Brian Baker, Eric Middledorp, Mark Rickard, Greg Windsham & David Maguire) won the 2016 Branch Championship.  In 2017/18 the 220yrs masters crew of Scott Morrison, Eric Middledorp, Ian Cradock, Andrew Murphy & Brian Baker came 3rd at the SNB Branch Championships.
Present day
For the 2019-2020 season the club hopes to field crews across the full spectrum of racing divisions. The club is always looking out for new people to join the section. Anyone wishing to try out is more than welcome. The only proviso is you must be at least 16 years of age.
Fitness, training and competition
Fitness
To row boats you need to have moderate to high fitness levels. Physical strength and aerobic fitness are important attributes. Most importantly you need to be someone who enjoys the team environment and the camaraderie that comes with being part of a team.
Training
While the training demands for each crew will vary according to the division of racing, individual coaches and the personal commitments of the participants, you can expect to train at least 5 days for around 2 hours. Training sessions will involve a combination of gym work, weights and rowing in both surf and flat water conditions. As the championship carnivals approach, you can expect this training commitment to increase slightly. Details of training times can be confirmed with individual crew coaches.
Competition
There are a number of local carnivals and boat specific carnivals held throughout the season. The club is keen to see its crews compete in as many of these carnivals as possible. There are also special events held throughout the season which a number of the club's crew attend, such as the Australian Surf Rowers League Australian Open event and the Pacific Palms Boat carnival on the mid north coast.
Boat events at local carnivals generally commence at approximately 7.30 – 8am. At some carnivals however different divisions start at different times and so you may have a start time of 12 midday or 1pm. Generally you can expect to have 2 or 3 rows at each carnival and be on the beach for about 3-4 hours. Most carnivals are held on Saturdays though some are scheduled for Sundays.
If I compete in boats can I do other events?
This is likely to prove difficult as boat races are generally held a considerable distance from other events. The nature of the racing generally means competing in other events is not possible. At the championship carnivals it may be possible to combine boat rowing with other events depending on the timetable. At Freshwater's Australia Day carnivals, the open carnival and the boat carnival are held on different days so competing at both is possible.
Contact
If you are interested in doing Boats or would like further information about senior or junior competition, you should contact Scott Morrison, Boat Captain, at scott or
telephone 0414 430 321.
Take part!
Our members enjoy access to a wide range of surf sports both for fun and for serious competition. Join today!